Alcuni dei nuovi potenziamenti della generazione di IntelliCAD v.5
Compatibilità completa con tutti i formati Dwg (anche con Autocad 2004 e 2005)
Draworder Audit Recover - Nuovi strumenti di controllo - Incrementi allo status bar Supporto per Autodesk - i-Drop technology Supporto - per files d'esempio - Miglioramento modellazione solida 3D - Prestazioni e Stabilità - Potenziamenti Layouts multipli - Linetypes Complesse - Testo Multiline - Lightweight polyline Improved - display engine Improved - memory model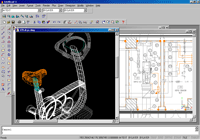 4M-IntelliCAD v. 5 E' DISPONIBILE in 2 VERSIONI:
-4M-IntelliCAD (Standard version): Versione complete di tutte le nuove funzionalità come: Raster-Image, X-ref manager e Rendering
-4M-IntelliCAD PRO (Professional): In aggiunta alla versione Standard possiede il supporto 3D Solids e VBA.
COMPATIBILITA' CON Autodesk AutoCAD SENZA EGUALI
Formato DWG originale (Opendwg)

Formato DWG per ogni versione di AutoCAD 2.5-2005

Completa compatibilità coi comandi AutoCAD "line", "menu" (.MNU) e file di scrittura (.SCR), hathes, i fonts e true type di fonts

Linetypes complesse

Testo multiline

Polilinee lineweight

Draworder Audit & Recover

Supporto AutoLISP completo (che include file.DCL)

Supporto ADS

Gestore della visualizzazione di immagini raster

Comandi AutoCAD 3D per superfici
PRODUTTIVITA' ECCEZIONALE
Apertura multipla dei disegni (MDI), supportoActiveX

Layouts multipli Drawing Explorer per la gestione dei layers-blocchi- line types ecc..

Anteprima grafica dei blocchi Real Time Pan & Zoom

Technologia i-Drop Click destroy del-mouse per editare le proprietà delle entità multiple selezionate; funzioni Nascondi-Mostra molto veloci e di alta qualità Script recorder Integrazione oggetti ActiveX (testi word, tabelle excel etc)

Visual customization di menus e toolbars

Rendering Photorealistici 3D di alta qualità (ray tracing)

Potente Modellazione Solida 3D (compatibile ACIS)

Versioni multilingua

Importazione-Esportazione di file DWG (opendwg)

Importazione - Esportazione di file DXF e SCR (script).

Importazione di file mnu (menu) e dcl (dialog box) Esportazione di file WMF, EMF (Enhanced Metafile) e SLD (slides)

Reading di immagini BMP, GIF, JPG, TIF, PCX all'interno di DWG files.
INTELLICAD E I PRODOTTI 4M
La 4M ha incorporato IntelliCAD nelle seguenti applicazioni fornendo agli utenti un ambiente CAD autonomo: IDEA (Architectural Design) - STRAD (Structural Analysis Design) - STEEL (Steel Construction Design) - FineHVAC (HVAC Design) - FineELEC (Electrical Design)
TABELLA DI COMPATIBILITA' CON Autodesk AutoCAD
4Μ-IntelliCAD 5

ACAD 2005

ACAD 2002

ACAD R14

ACAD LT

AutoCAD Compatibility

Native DWG Support (opendwg technology)


DWG support of any AutoCAD v 2.5-2005


-

-

-

-

DWG support for AutoCAD 2004

-

-

-

DWG support for AutoCAD 2005

-

-

-

AutoCAD Command Line


AutoCAD 3D surface commands


-

Full AutoLISP Support (including DCL)


-

ADS Support (Autodesk Development System)


-

Object ARX Support


-

-

AutoCAD menu (mnu) & script files (scr) Support


Mtext support

Hatch Editing

User Profiles Support

Multiple Paperspace

-

Lineweights Support

-

Drawing Recovery

TrueType Fonts

Raster Image Display


Advanced Features

Edit Multiple Drawings

-

Explorer™ for managing layers-blocks-line types


-

Microsoft Windows ActiveX Support


-

Creation and Storage of script files (script recorder)


-

-

-

-

Edit Multiple Drawings

Graphical block preview


-

Export to DWF

Visual customization of menus and toolbars


-

Image Menu

XRef Manager

e-drop

Quick Render

-

-

-

-

Right-mouse click to edit properties of multiple selected entities


-

High quality photorealistic 3D Rendering (Ray tracing)


-

Full 3D Modeler (Opencascade) - ACIS compatible (PRO)

-

Visual Basic Support (VBA) for Applications (PRO)

-

(*) The values of this table are based on published information. AutoCAD is a product and trade mark of Autodesk. Intellicad is a product and trade mark of IntelliCAD Technology Consortium (ITC).